#MIRANDAMUSTGO
Artwork — 2017

Artwork by Amy Spiers.
Graphic design by Stephen Mitchell.
Videography and editing by Zoe Scoglio, with music by Marco Cher-Gibard.
Mixed media, dimensions variable.

Socially engaged, site-responsive artwork and creative media activism campaign developed as part of practice-led PhD research following fieldwork at Ngannelong/Hanging Rock, Central Victoria.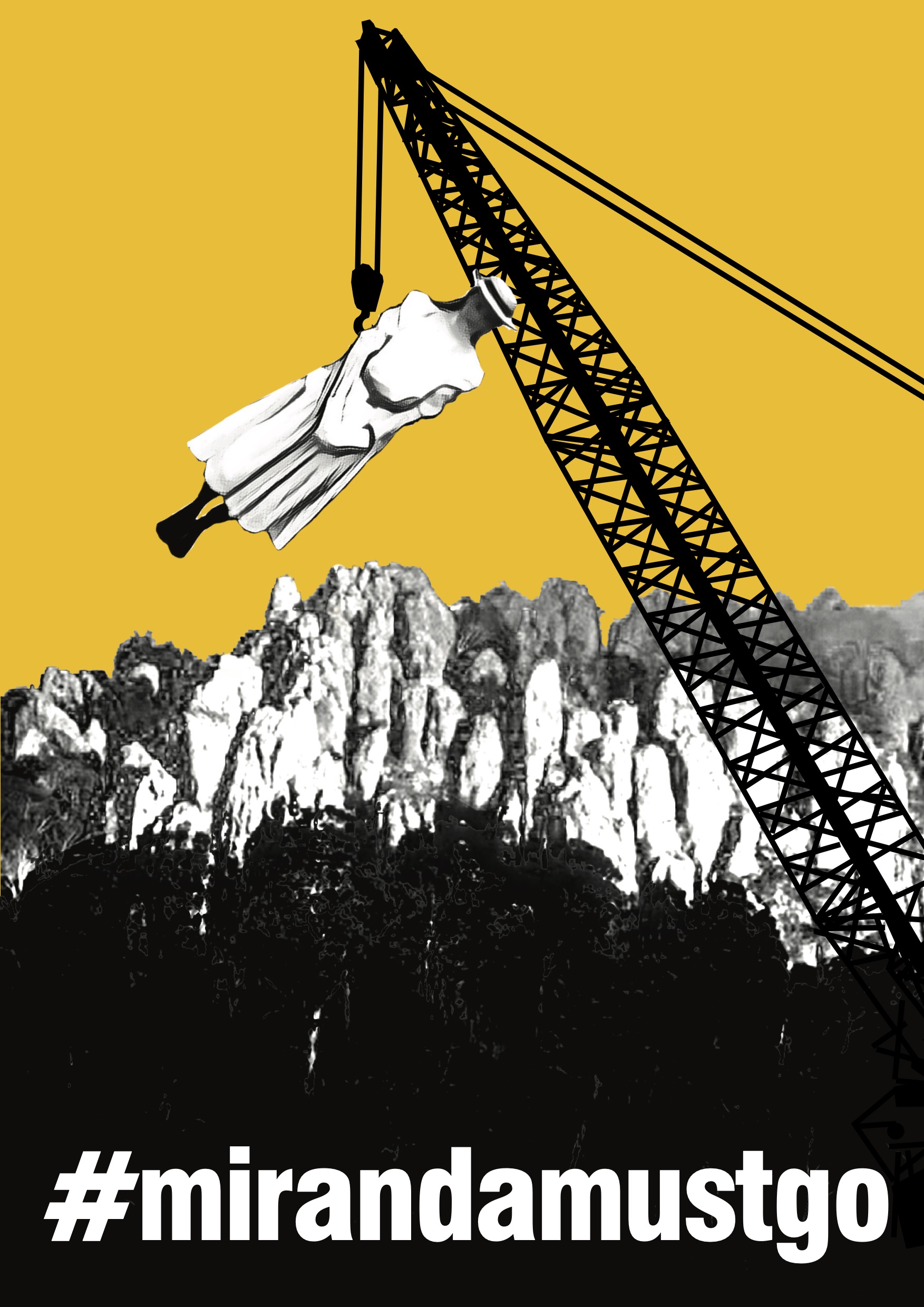 #MirandaMustGo
was a creative campaign conceived as part of Amy Spiers' practice-led PhD research with the objective to contest habitual associations at the site of Hanging Rock, Central Victoria with a white vanishing myth. Both creative media activism and socially engaged artwork,
#MirandaMustGo
called upon settlers to end their obsession with the character of Miranda and the fiction of vanished white schoolgirls derived from Joan Lindsay's classic 1967 novel,
Picnic at Hanging Rock
, and to instead meaningfully address the real losses and destruction to Country experienced by First Peoples in the region as a consequence of rapid and violent colonial invasion. The campaign urged acknowledgement of Hanging Rock's important ongoing cultural significance for Sovereign Traditional Custodians, the Wurundjeri, Dja Dja Wurrung and Taungurung peoples, and was known by other names, possibly Ngannelong, before European occupiers arrived.
The artwork mimicked the established methods and aesthetics of grassroots activism and included: the creation of posters, shareable graphics, t-shirts, campaign videos, and a website. A protest anti-picnic was also held at Hanging Rock on 14 February 2017, with a presentation from legendary Aboriginal activist Robbie Thorpe. Coinciding with the anti-picnic was the launch of a temporary #MirandaMustGo video installation presented inside the Hanging Rock Discovery Centre.
#MirandaMustGo
attracted public attention via a series of social media posts launched in January 2017 which quickly went viral and became the subject of national and international media attention. The campaign had broad public resonance as it communicated complex, critical arguments concerning Australia's denial of its violent colonial past into a meme-friendly, sharable format and provided a unique challenge to a seemingly innocuous cultural icon,
Picnic at Hanging Rock
, in the 50th anniversary year of its publication.
To date the campaign has generated numerous news features, articles and public commentary and has been discussed by theorists of visual arts, literature, film, activism, post-colonialism and Australian history, as well as used in high school students' studies of
Picnic at Hanging Rock
. Artistic outcomes have been collected by the National Library of Australia.
Consequently, the project has prompted significant public discourse and reconsideration of the heritage information and narratives available about Hanging Rock. Most significantly, since the campaign's launch all three Traditional Custodian groups' perspective on Hanging Rock has been sought out with more frequency and media generated by the campaign is referred to by people wishing to have a better understanding of the site's little-known colonial and Indigenous history.
Artsitic outcomes of Miranda Must Go have been exhibited in the group exhibition,
I WAS HERE
, curated by Anna Louise Richardson at Fremantle Art Centre in 2017, and a finalist in the Incinerator Gallery's
Incinerator Art Award: Art for Social Change
in 2018.
The ongoing effects and reach of the campaign continue to inspire Amy's current research and artistic practice.
Further information
︎ Original #MirandaMustGo website archived at National Library of Australia.
︎ Spiers, A. (2017) "What Really Happened at Hanging Rock." VICE Australia.

︎ Spiers, A. (2018) "Miranda Must Go: Rethinking the generative capacities of critique, discomfort and dissensus in socially engaged and site responsive art", PhD thesis, University of Melbourne.
︎ Spiers, A. (2019) "#MirandaMustGo: Contesting a settler colonial obsession with lost-in-the-bush myths through public and socially engaged art." Art & The Public Sphere 8, no. 2: 217-234.
Videos
︎ Experience the Mystery (2017)
︎#MirandaMustGo (2017)
︎ Robbie Thorpe Interview (2017)